Kent kicking around record idea
Glenn Parrish
Wednesday, September 02, 2020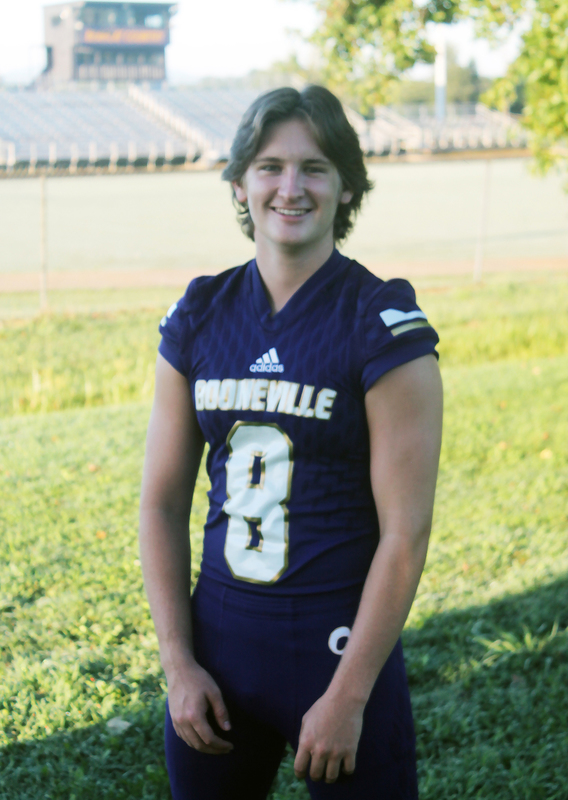 Gavin Kent would like to set Booneville's school record for successful extra point kicks, but that is not necessarily a selfish goal.
After all, for Kent to come on to add the extra point, something he has successfully done 112 times in his career, someone had to score a touchdown.
By halftime of the Booneville Bearcats' 35-14 season opening win over Dardanelle last Friday, Kent had moved from fourth to third most successful point after kicks at the school.
At the end of the night he was tied for second.
Kent set the single season school record converting 66 point after tries during a state title run as a sophomore, including a single season record 24 in the playoffs, in both cases surpassing Wayne Pack's marks by two.
He added 41 more PATs last year to move into fourth place with 107.
His first three PATs Friday moved him ahead of Mason Shirey. The next two drew him even with Pack.
That only leaves Allen Ray, whose son Randon is Kent's teammate. To catch Ray, he will need to convert 33 more chances.
A different sport
It was actually a different sport that got Kent into kicking.
"I started kicking a soccer ball around when I was 3 and we were in a Nike store. I would not put the soccer ball back," said Kent. "Mom ended up just buying it for me because I was yelling in the store."
In the seventh grade Kent went out for football – Booneville does not offer soccer.
"It's a little different but it's the same general concept," Kent said of the conversion to the American brand of football.
Although he started kicking footballs around in the seventh grade, he did so knowing there would be no game experience.
"We didn't do special teams, but I still practiced," said Kent.
While in junior high Kent made 39 of 46 PAT tries. He also hit a 35-yard field goal as a freshman.
Kent does not have a three-pointer in high school, but he wants one, badly.
Head coach Doc Crowley said that is a possibility this year.
"We plan to use him for field goals if it's fourth (down) and we're inside the (opponent's) 25," said Crowley.
Kent actually tried twice from beyond 40 yards at West Fork last year but missed.
While he wasn't able to hone his kicking skills at a summer camp going into his senior year, he did attend three such camps in Conway the previous two summers.
Nonetheless, Kent has a couple of practice opportunities.
You can drive around the Booneville School District and find any number of basketball goals. You can even find the occasional batting cage.
Ross and Nickie Kent put up a combination football/soccer kicking goal for their son.
"He's really reliable, and only getting better," said Crowley. He spends a lot of time on his own up here kicking on the game field," said Crowley.
A basketball player as well in junior high – his sister Karmen plays volleyball, basketball, softball, runs track, and is now getting to cheer for her brother on as a sophomore – Kent decided to focus exclusively on football because he figured that's what he was better at doing.
Chasing the record
To get to the career mark Kent won't be able to miss too many opportunities and, in the pandemic world, he will likely need a full season or a deep playoff run.
"I'm hoping to break it, but that's a big goal, I feel like we are as consistent as we were the first game it's possible," he said.
Of course he will also need to avoid injury and or sickness, which sidelined him for an entire week and left him unavailable for the Bearcats' second round playoff loss to Hoxie last year.
"That whole last week I was sick. I was watching on TV from my bed," said Kent.
"That game could have been different," Crowley says.
Needing 33 PATs to tie the record is somewhat ironic in that Kent made 33 straight starting with the 2018 semifinal playoff game against Prescott through the West Fork game in week 5 last year, before missing.
That, unfortunately, left him one behind Ray's record 34 straight. Kent also had a streak of 17 in a row to start the 2018 season.
Holders
Kent has had success kicking with a bevy of holders from Jacob Herrera during his freshman year, Mikey Hesson as a sophomore, Ty Goff and Evan Schlinker as a junior, and Goff again this year.
Misses are rare for Kent. As a sophomore there were 12 of them. As a junior, just four. His conversion percentage through Friday stands at 87.5. It is 92 percent since the start of his junior year.
When Kent does miss, he first looks at himself for the reason the scoreboard did not change.
"I always look to see if I pulled it, something I did wrong," said Kent. "Then I'll go back on film and see. Was it a bad snap? Did I need to slow down another half-second for the holder? I always check myself first."
Other duties
Besides kicking for points, Kent also handles kicking off. Last Friday he sent one to the 5-yard line. He has six touchbacks in his career.
"On kickoffs he can place it about anywhere you want it and when you can do that it can make a big difference," said Crowley.
He is also the last line of defense on a return and made three touchdown saving tackles doing that last year.