Typically drama productions rely on the audience's eyes on the actors. However, some of those on the stage may be taking note of you.
Savannah Walters in one such thespian.
"It's a lot of work, and it's hard," she said last night during a dress rehearsal of the Booneville High School drama department's forthcoming production of Willy Wonka, Jr.. "But when you see the faces of the little kids, it's worth it.
"You see all those happy faces and they're all smiling."
Tonight at 7 p.m. Walters and the cast of Willy Wonka, Jr. would love to welcome you to the first performance of Wonka, Jr.
Performances are also set for 7 p.m. on Saturday night and 2 p.m. on Sunday,.
To prep for the performance, the department held private viewings of the production for school district elementary students this morning and the district's high school students this afternoon.
The production stars Ian Suttles as the famed Willy Wonka as well as the Candyman, and Farrah Stringer as Charlie Bucket, who secures the final golden ticket to tour Willy's world renowned chocolate factory.
During the Thursday night dress rehearsal director Doug Sanders was quick to note Shackleford has an especially challenging role as the part requires upwards of three times the lines of the now 10 productions Sanders has overseen.
Ironically, the duo of Suttles and Stringer played the younger and elder versions of Simba in the department's production of The Lion King, Jr. last year.
Otherwise the cast is froth with newcomers. For instance in the role of Grandpa Jo, who will accompany young Charlie on his tour into the world of sweetness, is Farris Danes. Charley's father, Mr. Bucket, is played by Michael McLean.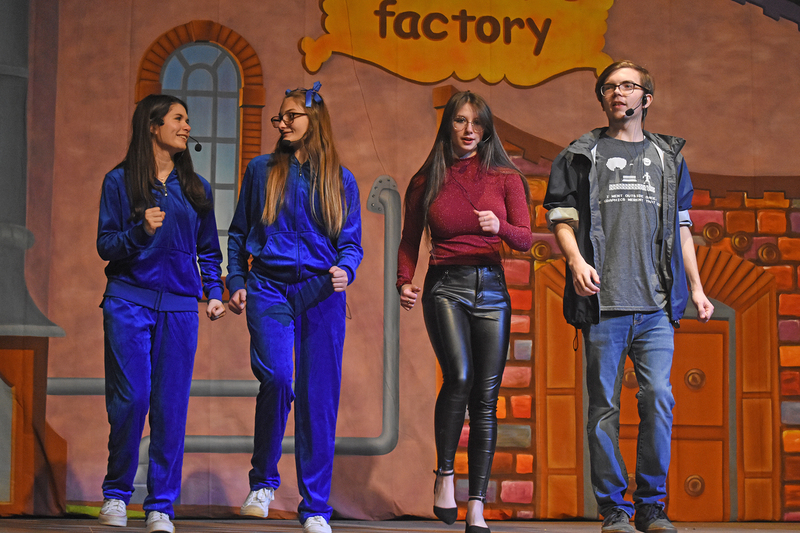 Though new to the BHS stage, McLean is one of a few cast members taking on multiple roles. Others include Walters, Allie Siddons, Crystal Murrell, Lindsey McGrath and Shea Hall.
Though not among the newcomers, Walters is eager to perform in what will be her final roles, those of Grandma Josephina and the cameraman.